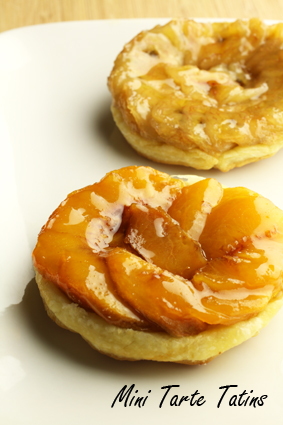 Spring time is here and depending on where you live, the farmer's markets are filling with gorgeous fruits. For me, May's the time for making pies even when the best of the crops haven't arrived yet. The easiest fruit desserts for me to make are mini tarte tatins and I make them custom with whatever fruit the kids want - or whatever happens to be either in the fridge or on the counter. My latest rounds are to the right: banana and peach.
Today coincides with Mother's Day as well. So, if you're a parent, an aunt, a grandparent, or other caregiver, Happy Mother's Day and may your day be bright.
The emailed
newsletter recipe
for May is Mini Tarte Tatins.
Have a great day - Renee.