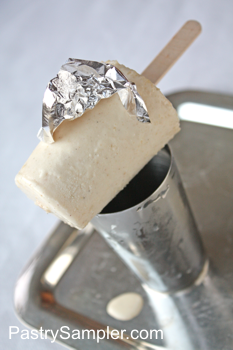 I'm a big fan of Indian food. I love the spicy sauces and rich vegetarian entrees. And having ordering from the dessert menu of many different Indian restaurants, I'm not sure which I enjoy more - eating them or seeing the paper-thin sheets of silver decorate them. Whenever I make
kulfi
(an Indian frozen dessert) or burfi (dessert confections), the kids go ga-ga when I decorate with tiny flecks of edible silver. Using edible grade silver and gold leaf makes a seemingly ordinary dessert seem spectacular.
Edible metals or vark - gold or silver - are considered safe to consume, but only if it contains the pure metal. It is important to purchase edible gold and silver sheets from reputable manufacturers, especially with silver which may contain a high percentage of aluminum or just the aluminum itself. The desired purity is just the metal itself with no alloys present, so find a resource that sells sheets as pure as possible and always see if the package states 'edible' or 'inedible'. This will tell what the purity is if no other clues are present as to the purity. For example, in the
2010 Albert Uster catalog
you can find 23K
edible
gold sheets, and
inedible
silver sheets (to be used for decoration only).
Using edible gold and silver leaf is a showstopper, but take the time to search for edible metals available from specialty purveyors who specialize in handling them. Craft store metallic sheets for gilding are not edible, and contain either a mixture of copper and zinc alloy to mimic gold, or pure aluminum to resemble pure silver.
Here are some resources for pure edible silver and gold:
No matter if it is pure silver or gold, have fun decorating your cakes and desserts with pure sparkle.